Psychology 117, Winter Quarter 2017
NOTE: The number of students who've already inquired about enrolling in the Winter 2017 course has exceeded our maximum enrollment for the quarter, so we won't be able to accept any additional applicants.
Students in PSYC 117 will assist with an afterschool education program for children in East County, San Diego. This is a great opportunity to help make a difference in the lives of children from underserved local communities. (Also, previous students have said that the course is fun.)
For more information about the course, see this feature article from the UCSD Guardian.
Class meetings will address topics such as cognitive skill acquisition, child psychology, the effectiveness of different pedagogical techniques, and education policy at the state and national levels. Evaluation will be based on class and lab participation, quizzes, and essay assignments.
PSYC 117 is part of the UCSD Community-Based Research and Outreach Project. For more information about the broader goals of this project, and more detailed information about the structure of a typical lab meeting, please read about the philosophy of the project.
As typically takes place when people volunteer at schools, standard background checks will be needed prior to working with the children.
If you are interested in joining the team, or if you'd like additional information, then contact the course instructor, at YouthScience@ucsd.edu
Be sure to include "PSYC 117" in the subject line of your email.
---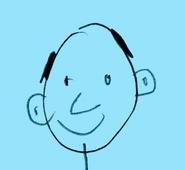 Dr. Bajic, as drawn by one of the children.